This is not to say that Comic Sans is the worst of them all. We've taken the liberty of listing some of the 12 fonts that are far worse.
Comic Sans Font has always been the butt of every typeface joke. If you want your content to be taken seriously, I advise you steer clear from the said font.
Why? Obviously, Comic Sans does not connote a serious tone nor does it look professional
Not convinced? Here's what the creator has to say about Comic Sans.
 Comic Sans is the best joke I ever told. Comic Sans était la meilleure blague que j'ai jamais dit . #comicsans
 — Vincent Connare (@VincentConnare) February 8, 2010
Translation: Comic Sans is the best joke I ever told. Comic without was the best joke that I never said. #comicsans
Times New Roman
Old school alert! There's nothing wrong with this font, to be perfectly honest. It does not look messy nor does it connote an unprofessional tone.
But, seriously, would you use a typeface reminiscent of our high school and university days where sleepless nights, deadlines, and 5000-word essays are monthly requirements?
 Papyrus
As with the actual Papyrus paper, the thought of ever using this font should fade into oblivion. This font has been so terribly overused, it's boring.
Comic Papyrus
If you think comic sans and papyrus are terrible on their own, wait until you see what happens when their aspects are combined into one font.
Stop! Seriously, stop!
Bleeding Cowboys
I believe cowboys should take offense in attributing their identity to this font. And what's with the name?
Stencil
Does anyone ever use stencils anymore?
Viner Hand ITC
No words can describe how this font induces cringe every single time I see it.
Vivaldi
It's so frilly and curly. Need I say more?
Wingdings
You don't need me to explain why this font made the list. Trust me.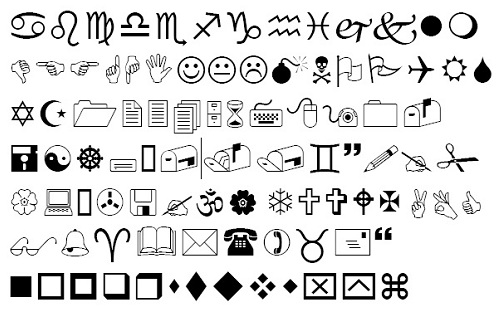 Horatio
Another font similar to Comic Sans.
Curlz MT
You read it right. That's Curlz with a Z.
Chiller
Creepy? Absolutely…NOT.
Kristen ITC
This font is quite similar to Comic Sans, only it looks like a child's handwriting.
There you have it, a dozen fonts that you should avoid condensed into a list. What other fonts should be added into the list?